weight loss tips in 7 day I receive emails on a weekly basis asking what I eat each week or asking why they aren't losing weight? I do my best to offer advice on peoples food diaries but I cannot always answer everyone. So I thought putting together what I have eaten this week may give you all some ideas, or see where you might be going wrong…
I do NOT eat Muller lights or flavoured yoghurts.. I only eat fat free greek style yoghurt.

I limit myself on fruit.. as I believe the extra sugar from fruit limits my weight loss. I receive emails from people who eat fruit all day long. Don't get me wrong this may work for some but it doesn't for me.

I track EVERYTHING… It is so easy to forget that cheeky Syn you had for lunch.

I very rarely use my full Syn allowance.

I don't always use my Healthy Extra's. Since SW introduced 2 HEA per day I often struggle to use these. I don't drink tea/coffee so that doesn't really help either.
Am I perfect? No… I don't always stay on plan, I gain weight on our holidays and I cannot seem to get past my 4 stone loss! I always tell friends and family that I am excellent at telling everyone else how to lose weight but rubbish at doing it myself! But I do know how the SW plan works and how to lose weight with it. That is why you are here right?
One of the BIGGEST tips I can give you is to don't go it alone. Either get your family involved, join a group or get on instagram and start posting your meals.
Mrfatgirlskinny took a bit of persuading but once he got fully involved with the plan he realised that it just works and we enjoy cooking together. Sometimes he is served up some really weird dishes but he smiles sweetly and makes himself an omelette if it's that bad. This plan is all about experimenting and trying new things. Otherwise you will become bored quickly and go off plan. Keep it interesting 🙂
---
To help me track my Syns I print my awesome Syn tracker guide each week and stick it in the kitchen.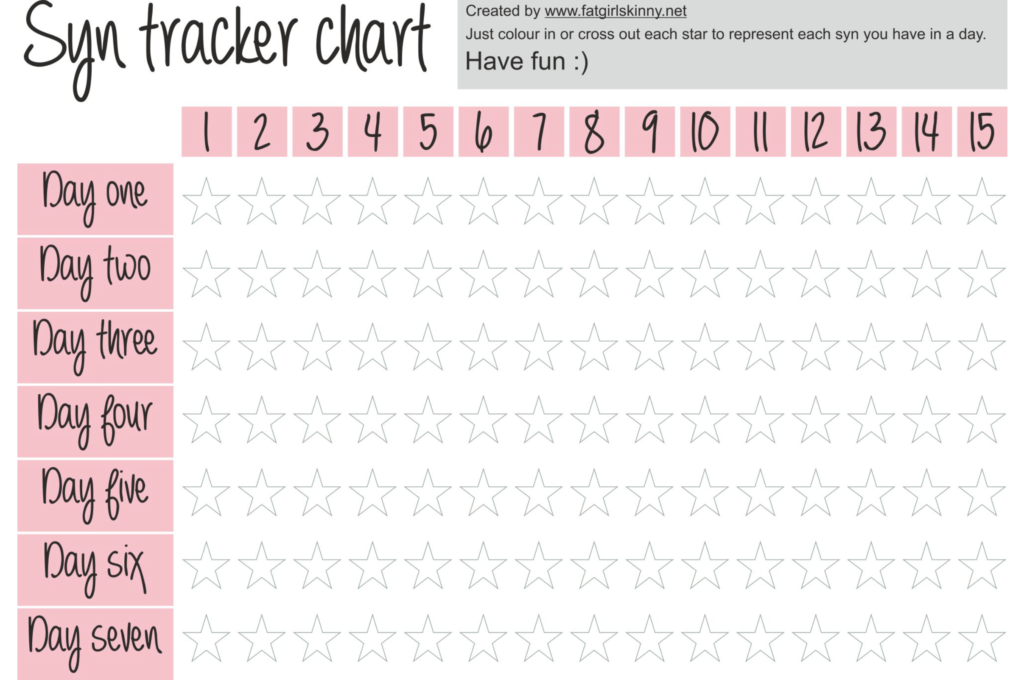 ---
Notes about the diary:
---
DAY ONE
TOTAL SYNS: 6
HEALTHY EXTRAS: 1 HEA and HEB
DAY TWO
TOTAL SYNS: 11
HEALTHY EXTRAS: 2 HEA and HEB
---
DAY THREE
TOTAL SYNS: 5.5
HEALTHY EXTRAS: 1 HEA and HEB
DAY FOUR
TOTAL SYNS: 14
HEALTHY EXTRAS: 1 HEA and HEB
---
DAY FIVE
TOTAL SYNS: 11
HEALTHY EXTRAS: 2 HEA and HEB
DAY SIX
TOTAL SYNS: 6
HEALTHY EXTRAS: 1 HEA and HEB
---
DAY SEVEN
TOTAL SYNS: 6.5
HEALTHY EXTRAS: HEB
---
TOTAL SYNS FOR WEEK: 60 / 105
---
I really hope this helps 🙂 If you have any luck following this plan, questions or comments please leave below. Remember I'm not perfect and I do eat a lot of the same things but this is how I lost weight this week.